"Only when lions have historians will hunters cease being heroes." - African Proverb
Please download the FESTIVAL PROGRAM (pdf)
XXXIV. 2019 Black International Cinema Berlin
"Footprints in the Sand?" ExhibitionBerlin 2019

May 9-12 | 2019
Rathaus Schöneberg (city hall)
John-F.-Kennedy-Platz 1, 10825 Berlin

Admission free / Eintritt frei
May 1 - July 31 | 2019

"Footprints in the Sand?" ExhibitionBerlin 2019
Visual Documentation – Photographic Exhibition | Visuelle Dokumentation – Fotoausstellung

The exhibition documents the history of Fountainhead® Tanz Théâtre in association with International Artists.

Die Ausstellung dokumentiert die Geschichte von Fountainhead® Tanz Théâtre in Verbindung mit Internationalen KünstlerInnen.

Additional artists t.b.a. / Weitere KünstlerInnen werden angekündigt.
Friday | May 10 (Kinosaal/Cinema)
4 pm | 16 Uhr
Film Presentation

PORTRAIT SPOTS WITH ARTISTS AT MEDIENWERKSTATT BERLIN
Director: Christa Biedermann
Experimental, Color, 58 min.
Germany 2013-2018
no dialogue


Portrait spots created at Medienwerkstatt with 17 artists.


Porträt-Spots, kreiert in der Medienwerkstatt mit 17 KünstlerInnen.


Director: Christa Biedermann

WATCH THE SKIES
Directors: Dan Boord & Luis Valdovino
Documentary/Experimental, Color, 6 min.
USA 2018
English


"Watch the Skies" is an encounter with an unworldly past and present. It is likewise an encounter with the science fiction film music of the cold war. In 1951 a flying craft encircled the globe traveling at 4000 miles an hour and landed in Washington, D.C. to meet actress Patricia Neal. Meanwhile, at the North Pole a handful of American soldiers and civilians met the first invasion from another planet. As unlikely as it might seem, the origin of these occurrences may be found in what a pilot, flying near Mount Rainier, reportedly saw and what a rancher found northwest of Roswell, New Mexico in 1947. "Watch the Skies" is a road trip and rendezvous with the expanses of the unknown and the skies of New Mexico.


"Watch the Skies" ist eine Begegnung mit einer weltfremden Vergangenheit und Gegenwart. Es ist auch eine Begegnung mit der Science-Fiction-Filmmusik des Kalten Krieges. Im Jahr 1951 umkreiste ein mit 4000 Meilen pro Stunde fliegendes Objekt die Weltkugel und landete in Washington, DC, um die Schauspielerin Patricia Neal zu treffen. Inzwischen traf am Nordpol eine Handvoll amerikanischer Soldaten und Zivilisten die erste Invasion von einem anderen Planeten. So unwahrscheinlich es auch scheinen mag, der Ursprung dieser Ereignisse kann in dem liegen, was ein Pilot, der in der Nähe des Mount Rainier flog, angeblich gesehen hat und was ein Rancher 1947 nordwestlich von Roswell, New Mexico, gefunden hat. "Watch the Skies" ist ein Road Trip und Rendezvous mit den Weiten des Unbekannten und dem Himmel von New Mexico.


DANCING WITH THE ANCESTORS
Director: Bernd Leideritz
Documentary, Color, 51 min.
Madagascar/Germany 2018
Madagasy with English subtitles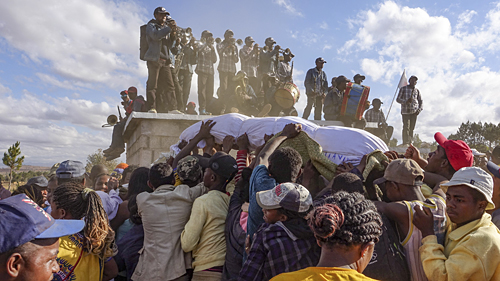 Ramilison Besigara was head of the famous Hira Gasy group of his native Madagascar. The Hira Gasy is a music/theatrical tradition from the highlands of the island off the east coast of Africa. According to the beliefs of many Malagasy, the deceased continue to live as ancestors, mediating between the living and God. As ancestors, they are more powerful than the living and have great influence on the fate of the living. To be favorable to the ancestors a Famadihana, a turning of the bones, is celebrated every 5, 7 or 9 years. In the process, the deceased, the ancestors, are brought out of their tombs, to dance and celebrate with them, and above all, they are wrapped in new mortuary cloths. This documentary was created by invitation of the Ramilison family. The Famadihana, although very public, is a significant family affair. So it is a great privilege that the camera, always in the midst of action, could document this momentous celebration.


Ramilison Besigara war Leiter der berühmten Hira-Gasy-Gruppe seiner Heimat Madagaskar. Das Hira Gasy ist eine Musik-/ Theatertradition aus dem Hochland der vor der Ostküste Afrikas gelegenen Insel. Nach dem Glauben vieler Madagassen leben die Verstorbenen als Ahnen weiter, sie sind Mittler zwischen den Lebenden und Gott. Als Ahnen sind sie mächtiger als die Lebenden und haben großen Einfluss auf das Schicksal der Lebenden. Um die Ahnen wohlgesonnen zu stimmen, wird alle 5, 7 oder 9 Jahre eine Famadihana, eine Totenumbettung, gefeiert. Dabei werden die Verstorbenen, die Ahnen, aus ihren Grabstätten geholt, es wird mit ihnen getanzt, gefeiert und vor allem werden sie in neue Totentücher gehüllt. Diese Dokumentation entstand aufgrund der Einladung der Familie Ramilison. Die Famadihana ist, obwohl sehr öffentlich zelebriert, eine sehr familiäre Angelegenheit. So ist es ein großes Privileg, dass die Kamera, immer mitten im Trubel des Geschehens, dieses bedeutsame Fest dokumentieren konnte.

Friday | May 10 (Kinosaal/Cinema)
6 pm | 18 Uhr
Film Presentation

WOLF CALL
Director: Rob Underhill
Narrative, Color/B/W, 12 min.
USA 2010
English


It is 1956. The previous year, 14-year old Emmett Till from Chicago had gone missing in Money, Mississippi. Later, the boy's mutilated body was found in a river. William Bradford Huie of Look magazine sits down with the two men acquitted for the boy's murder, Roy Bryant Jr. and J.W. Milam, to discuss the trial. Not a word had been uttered outside a courtroom by them or their relatives, until now... "Wolf Call", the true story crafted from public record, transports us back to this historic drama that became a lightning rod for moral outrage and pivotal in inspiring a whole generation of young people to commit to social change in the 1950s.

Es ist das Jahr 1956. Ein Jahr zuvor verschwand der 14-jährige Emmett Till aus Chicago in Money, Mississippi. Später wurde der verstümmelte Körper des Jungen in einem Fluss gefunden. William Bradford Huie vom Magazin Look sitzt zusammen mit den zwei Männern, die von dem Mord an dem Jungen freigesprochen worden sind, Roy Bryant Jr. und J.W. Milam, um über die Verhandlung zu sprechen. Nicht ein Wort ist von ihnen oder ihren Verwandten außerhalb des Gerichtssaals geäußert worden, bis jetzt... "Wolf Call", die aus öffentlichen Aufzeichnungen umgesetzte wahre Geschichte, versetzt uns zurück zu diesem historischen Drama, das zur Zielscheibe für moralische Empörung wurde und als Auslöser eine ganze Generation von jungen Menschen inspirierte, sich in den 1950er Jahren für soziale Veränderung einzusetzen.


All On Board
XOÉSE
Director: Gloria Eva Adotevi
Narrative, Color, 31 min.
Ghana 2018
English


Xoése, an ex-convict, just out of prison and with high hopes of beginning life afresh, is met with hostility from her family and the community surrounding her. Will she be drawn into crime, if society doesn't offer any other opportunities?

Xoése, eine ehemalige Strafgefangene, gerade aus dem Gefängnis entlassen und mit großen Hoffnungen, das Leben neu zu beginnen, stößt auf Feindseligkeiten ihrer Familie und der sie umgebenden Gemeinschaft. Wird sie in die Kriminalität hineingezogen, wenn die Gesellschaft ihr keine anderen Möglichkeiten bietet?


A CONVERSATION WITH OSCAR BROWN JR.
November 8, 1998, Berlin, Germany
"What´s wrong with this picture?"
Director: Prof. Donald Muldrow Griffith/Fountainhead® Tanz Théâtre
Documentary, Color, 60 min.
Germany 1998
English


Prof. Donald Muldrow Griffith and Oscar Brown Jr.

PEOPLE, POLITICS AND ART

"If it looks like bullshit and smells like bullshit, it´s probably bullshit!" – Oscar Brown Jr.

Oscar Brown Jr., the man in the film, on and off screen.

Oscar was a combination of personalities that often amazed and bewildered. He was a habitué of Bronzeville, also known as the Black Southside of Chicago, Illinois, which graciously provided him with a direction for life. The young Oscar was blessed with circumstances many persons would wish for their existence.
Indulgent, educated, loving and disciplining parents, bestowed a comfortable and resource filled life upon their son and family members, through substantial real estate interests.
Oscar was a special kind of man, one who "existed" in the dominant group and lived in the culture from which he'd sprung.
Oscar Brown Jr. lived a life of enlightened schizophrenia, acquiring the social-psychological skills necessary to deal with the dominant group, who were often times not especially appreciative of his talents or existence, but on the other hand, he fortunately lived among sun kissed people, through whom he was acculturated and hence remained a source of inspiration, information and support throughout his life.
Oscar was a handsome man, tall, articulate and very charming, as attested to by the ladies who swooned in his trajectory.
He was also a source of possibilities and enlightenment for males, young and old, especially sun kissed males, seeking to breath fresh air in the oppressive atmosphere of a country conditioned to cultivate and perpetuate a permanent underclass.
Oscar Brown Jr. for example, had the ability to request and receive funding from persons such as the mayor of Chicago, boss Richard J. Daley and then travel to the bowels of Bronzeville on Chicago's Southside and distribute the largesse, among groups and individuals as diverse as the Black Muslims to the Black Stone Rangers, a notorious and powerful street gang at the time, in Chicago.
Oscar's financial support, talent and personality, enabled him to create theatre and artistic creations with persons ordinarily recognized for their anti and asocial behavior. He also provided the financial and artistic inspiration and creations for work with many young people in Chicago and nationwide.
In addition, Oscar was also a friend and co-creator with many established and talented musicians on the jazz scene, USA.
He often spoke of his affiliation with the Communist Party and his efforts to combat racism through scientific socialism. His experience with this methodology eventually led to disappointment, as he again found himself enmeshed in a hierarchy with "other folks" on top of the glass ceiling. Oscar was gifted with his ability to analyze personal and political situations and from these insights, create plays, poetry and songs which possess amazing humor, understanding and musicianmanship and which enabled him to enter the annals of gifted artists by virtue of his talents.
The documentary film "A Conversation With Oscar Brown Jr." occurs in Oscar's hotel room, after the completion of his invitational concert at the Haus der Kulturen der Welt (House of the Cultures of the World) in Berlin/Germany.
He is in an expansive mood and speaks at length about music, the relationship between politics and sleaze in the USA, the state of affairs of Black America and the underclass, crack cocaine, racial prejudice as a mental illness, Affirmative Action and the evil spirit in human society, versus the godly side in humanity.
Oscar also reminisces about his childhood in Chicago, attending the University of Wisconsin, acting, Dick Durham, the cold war, W.E.B. DuBois, Paul Robeson, the Communist Party, Jim Crow, his army experiences, the collapse of Communism-Socialism, Black people in the Communist Party and his hopes for the future.
After witnessing his intelligent, experienced and artistic thoughtfullness for an hour, you may not agree with Oscar on all points, but the viewer will certainly be enthralled and entertained by the overview of and personal history provided on film, by the remarkable Oscar Brown Jr.

"I may not make it if I try, but I damn sure won´t if I don´t..." – Oscar Brown Jr.

Oscar Brown Jr.
October 10, 1926 - May 29, 2005

Producer, Director, Interviewer, Author:
Prof. Donald Muldrow Griffith/Fountainhead® Tanz Théâtre, Berlin/Germany 1998



MENSCHEN, POLITIK UND KUNST

"Wenn es wie Scheiße aussieht und wie Scheiße riecht, ist es wahrscheinlich Scheiße!" – Oscar Brown Jr.

Oscar Brown Jr., der Mann im Film, auf und außerhalb der Leinwand.

Oscar war eine Kombination aus Persönlichkeiten, die oft überraschte und verwirrte. Er war Einwohner von Bronzeville, auch bekannt als die Schwarze Südseite Chicagos, Illinois, die ihm wohlgesonnen eine Richtung für sein Leben bereit hielt.
Der junge Oscar war mit Umständen gesegnet, die sich viele Menschen für ihr Leben wünschen würden. Nachsichtige, gebildete, liebende und disziplinierende Eltern boten ihrem Sohn und den anderen Familienmitgliedern ein komfortables und gut ausgestattetes Leben durch beträchtliche Gewinne als Immobilienmakler.
Oscar war ein besonderer Mann, einer, der in der dominierenden Gruppe "existierte" und in der Kultur lebte, der er entsprungen war.
Oscar Brown Jr. lebte ein Leben der aufgeklärten Schizophrenie, indem er sich die sozial-psychologischen Fähigkeiten aneignete, um mit der dominierenden Gruppe umzugehen, die seine Talente und seine Existenz oft nicht besonders anerkannte. Andererseits lebte er unter von der Sonne geküssten Menschen, durch die er kulturell geprägt worden war und die für ihn somit zeitlebens eine Quelle der Inspiration, Information und Unterstützung blieben.
Oscar war ein gut aussehender Mann, groß, ausdrucksstark und sehr charmant, wie von den Damen bestätigt wurde, die in seiner Nähe schwach wurden.
Ebenso war er eine Quelle der Möglichkeiten und Erleuchtungen für das männliche Geschlecht, jung und alt, besonders für die von der Sonne geküssten männlichen Wesen, die in der unterdrückenden Atmosphäre eines Landes, dessen Konditionen eine permanente Unterklasse erzeugte und erhielt, nach frischer Luft verlangten.
Oscar Brown Jr. besaß zum Beispiel die Fähigkeit, Finanzmittel zu beantragen und von Leuten wie dem Bürgermeister von Chicago, Boss Richard J. Daley, zu erhalten, und dann ins Innerste von Bronzeville in Chicagos Südseite zu fahren und großzügig unter Gruppen und einzelnen Leuten zu verteilen, die so unterschiedlich waren wie die Black Muslims zu den Black Stone Rangers, eine berüchtigte und mächtige Straßengang zu jener Zeit in Chicago.
Oscars finanzielle Rückendeckung, sein Talent und seine Persönlichkeit befähigten ihn dazu, Theaterstücke und künstlerische Produktionen mit Menschen zu gestalten, die üblicherweise wegen ihrer anti- und asozialen Haltung wahrgenommen werden. Ebenso bot er finanziellen Hintergrund, künstlerische Inspiration und Entwicklungen für die Arbeit mit vielen jungen Menschen in Chicago und landesweit.
Außerdem war Oscar ein Freund und Ko-Schöpfer für viele etablierte und talentierte Musiker aus der Jazzszene der USA.
Häufig sprach er über seine Verbindung mit der Kommunistischen Partei und seine Bemühungen, Rassismus durch systematischen Sozialismus zu bekämpfen. Seine Erfahrung mit dieser Methodik führte schließlich zur Enttäuschung, als er sich wiederum in eine Hierarchie mit "anderen Leuten" hinter diskriminierenden Barrieren verstrickt fand.
Oscar hatte die Gabe, persönliche und politische Situationen analysieren zu können und aus diesen Einsichten Theaterstücke, Gedichte und Songs zu erschaffen, die von erstaunlichem Humor, Verständnis und musikalischem Können geprägt sind und die ihn aufgrund seines Talents berechtigen, in die Annalen der begnadeten Künstler einzugehen.
Der Dokumentarfilm "A Conversation With Oscar Brown Jr." wurde in Oscars Hotelzimmer gedreht, nach Beendigung seines Konzertes auf Einladung des Hauses der Kulturen der Welt in Berlin/Deutschland. Er ist in mitteilsamer Laune und spricht ausführlich über Musik, die Beziehung zwischen Politik und Unmoral in den USA, den Stand der Dinge des Schwarzen Amerikas und die Unterklasse, Crack/Kokain, rassistische Vorurteile als mentale Krankheit, Affirmative Action (Förderungsmaßnahme zugunsten von Minderheitsgruppen in den USA) und den bösen Geist in der menschlichen Gesellschaft im Kontrast zur göttlichen Seite der Menschlichkeit.
Oscar schwelgt in Erinnerungen an seine Kindheit in Chicago, den Besuch der Universität von Wisconsin, an das Schauspielen, an Dick Durham, den Kalten Krieg, W.E.B. DuBois, Paul Robeson, die Kommunistische Partei, Jim Crow, seine Erfahrungen mit der Armee, den Zusammenbruch des Kommunismus´/Sozialismus´, Schwarze Menschen in der Kommunistischen Partei, und er erzählt über seine Hoffnungen für die Zukunft.
Nachdem man eine Stunde lang Zeuge seiner intelligenten, erfahrungsreichen und künstlerischen Gedankenfülle sein durfte, mag man vielleicht nicht in allen Punkten mit Oscar übereinstimmen, aber der Zuschauer/die Zuschauerin wird sicherlich gefesselt und unterhalten sein von diesem Blick auf die Geschichte und den persönlichen Erfahrungen des bemerkenswerten Oscar Brown Jr.

"I may not make it if I try, but I damn sure won´t if I don´t..." – Oscar Brown Jr.

Oscar Brown Jr.
10. Oktober 1929 - 29. Mai 2005

Produzent, Regisseur, Interviewer, Autor:
Prof. Donald Muldrow Griffith/Fountainhead® Tanz Théâtre, Berlin/Deutschland 1998
Friday | May 10 (Kinosaal/Cinema)
8 pm | 20 Uhr
Film Presentation

All On Board
TRIBAL ZONE
Director: Mohamed Alarinih Bah
Narrative, Color, 25 min.
Ghana 2018
English


Mawuli's love for Afia is threatened by bad blood, which exists between people of the Ashanti and Ewe. Therefore, Mawuli develops a risky hide-and-seek relationship in order to obtain his and Afia's acceptance by his future father-in-law. Will Mawuli succeed or lose the love of his life?


Mawulis Liebe zu Afia wird durch böses Blut bedroht, das zwischen dem Volk der Ashanti und der Ewe herrscht. Daher beginnt Mawuli ein riskantes Versteckspiel in der Beziehung, damit er und Afia von seinem zukünftigen Schwiegervater akzeptiert werden. Wird es Mawuli gelingen oder wird er die Liebe seines Lebens verlieren?


MIRASE MAN AVAZ / MY HERITAGE SINGING
Director: Fatemeh Moosavi
Documentary, Color, 34 min.
Iran 2014
Persian with English subtitles


Director: Fatemeh Moosavi

The social status of women has been unsteady and pendulous, throughout the various periods in Iranian history. The prohibition of women singing in public after the 1979 revolution, is a recent and illustrative example of preventing them from singing even in religious rituals such as Ta'zïye. Bushehr Port, having a history of approximately 5,000 years, is the exception as local women strive to preserve their traditions of singing. The movie takes us to the old and almost untouched traditions of Boushehris and follows women for whom singing is an important part of life. They speak about their lives, their enthusiasm for singing and why they are determined to be involved in their religious rites the way they have always been.

Die soziale Stellung der Frau war in den verschiedenen Perioden in der iranischen Geschichte unsicher und wechselte. Das Verbot für Frauen nach der Revolution von 1979, in der Öffentlichkeit zu singen, ist ein jüngeres und erklärendes Beispiel dafür, dass sie am Singen, sogar in religiösen Ritualen wie Ta'zïye, gehindert werden. Buschehr, mit einer Geschichte von rund 5.000 Jahren, ist die einzige Ausnahme, da Frauen sich hier vor Ort bemühen, ihre alten Traditionen des Singens zu bewahren. Der Film führt uns zu den alten und fast unberührten Traditionen der Buschehrer und folgt den Frauen, für die der Gesang ein sehr wichtiger Teil des Lebens ist. Sie sprechen über ihr Leben, ihre Begeisterung für das Singen und warum sie entschlossen sind, sich an ihren religiösen Riten zu beteiligen, wie sie es schon immer getan haben.


STEPPING: BEYOND THE LINE
Director: Dee Garceau
Documentary, Color, 43 min.
USA 2011
English


Dancers stomp out a rhythm on the floor and on the body, expressing identities and struggles, hopes and dreams. Their movements tell of conflict in the segregated South, brotherhood and sisterhood in the long climb upward. Stepping bridges past and present with verve and precision, drawing from folk traditions like the ring shout, playing the dozens, handclap games, and military jodies. The history of this dance form reaches back to West African cultural roots, the experience of slavery in North America, the era of Black institution-building in the Jim Crow South, Black military service in World Wars I and II, and civil rights protests. Interviews with steppers and historians, archival images, energetic footage of step practices and shows, reveal a performative culture grounded by a deep sense of social responsibility.


Tänzer stampfen einen Rhythmus auf den Boden und den Körper, sie drücken ihre Identität und die Kämpfe, Hoffnungen und Träume aus. Ihre Bewegungen zeugen von der Segregation des Südens, Bruderschaft und Schwesternschaft auf dem langen Weg nach oben. Stepping ist Brückenbauer zwischen Vergangenheit und Gegenwart mit Ausdruckskraft und Präzision, schöpfend aus volkstümlichen Traditionen wie Ring Shout (ein Kreisritual), "Dutzende spielen" (ein verbaler Schlagabtausch), Klatschspielen und militärischem Marschgesang. Die Geschichte dieses Tanzes reicht zurück zu westafrikanischen kulturellen Wurzeln, zu den Erfahrungen der Sklaverei in Nordamerika, der Zeit des Aufbaus Schwarzer Einrichtungen im Süden des Jim Crow, zum Militärdienst Schwarzer Soldaten im Ersten und Zweiten Weltkrieg und zu den Protesten der Bürgerrechtsbewegung. Interviews mit Stepping-Tänzern und Historikern, Archivbilder und energiegeladene Aufnahmen vom Training und den Shows offenbaren eine Performancekultur, die auf einem tiefen Gefühl sozialer Verantwortung basiert.
Friday | May 10 (Kinosaal/Cinema)
10 pm | 22 Uhr
Film Presentation

RALPH BUNCHE: AN AMERICAN ODYSSEY
Director: William Greaves
Documentary, Color, 117 min.
USA 2001
English


Ralph Bunche

Scholar, diplomat, civil and human rights activist, the first Black person to win the Nobel Peace Prize for negotiating an armistice agreement in the Middle East between Arabic Nations and Israel – Ralph Bunche might be the most overlooked public figure of the 20th century. This documentary chronicles the life of a remarkable African American who overcame poverty and prejudice to profoundly shape the course of world history, yet faded from the public consciousness. The film resurrects his legacy at a crucial time. Bunche´s ideas and actions resolved longstanding conflicts around the world in a not-so-distant past – lessons that are all too timely today. "Ralph Bunche: An American Odyssey" is narrated by Sidney Poitier; produced and written by Emmy Award-winning filmmaker William Greaves; and based on the biography of Sir Brian Urquhart, Bunche´s successor at the UN. The film weaves newsreel footage, archival photographs, readings from Bunche´s diaries and writings, and interviews with narration and music to tell the story on both an intimate and global scale. The film traces Bunche´s life (1903-1971) against the backdrop of leading world events of the 20th century, beginning with his youth and early career as a professor at Howard University and researcher in Africa. Bunche´s political career began during World War II at the State Department. After the war, Bunche helped draft the UN charter and later joined the organization, where he rose to Under-Secretary General. During the 1950s and '60s, he became an international celebrity for an astonishing array of achievements, including his role as peacemaker in the Middle East, catalyst for decolonization in Africa, and advocate of civil rights in the USA.


from left: Martin Luther King Jr., Coretta Scott King, Ralph Bunche

Wissenschaftler, Diplomat, Aktivist für Bürger- und Menschenrechte, der erste Schwarze, der den Friedensnobelpreis für die Verhandlungen zum Waffenstillstand im Nahen Osten zwischen arabischen Staaten und Israel bekam – Ralph Bunche ist wohl die meist übersehene öffentliche Persönlichkeit des 20sten Jahrhunderts. Diese Dokumentation zeichnet das Leben eines bemerkenswerten Afrikanisch-Amerikaners nach, der Armut und Vorurteile überwand, um auf grundlegende Weise den Lauf der Weltgeschichte mit zu gestalten, und dennoch aus dem Bewusstsein der Öffentlichkeit verschwand. Der Film lässt sein Vermächtnis wieder aufleben, zu einer kritischen Zeit. Bunches Ideen und Aktivitäten ließen lang anhaltende Konflikte in einer nicht allzu weit zurückliegenden Zeit zu einer Lösung kommen – Lehren, die heute mehr als zeitgemäß erscheinen. "Ralph Bunche: An American Odyssey" wird von Sidney Poitier erzählt, wurde von dem mit einem Emmy-Award ausgezeichneten Filmemacher William Greaves produziert und geschrieben und basiert auf der von Sir Brian Urquhart verfassten Biographie, seinem Nachfolger bei den Vereinten Nationen. Der Film verwebt Archivmaterial aus Wochenschauen, Fotomaterial, Passagen aus Bunches Tagebüchern und Aufzeichnungen, Interviews mit Erzählungen und Musik, um die Geschichte aus privater und globaler Perspektive darzustellen. Der Film folgt Bunches Leben (1903-1971) vor dem Hintergrund weltbewegender Ereignisse des 20sten Jahrhunderts, beginnend mit seiner Jugend und seiner frühen Karriere als Professor an der Howard Universität und seiner Tätigkeit als Forscher in Afrika. Bunches politische Karriere begann im State Department während des Zweiten Weltkrieges. Nach dem Krieg war Bunche an der Formulierung der UN-Charter beteiligt und trat später der Organisation bei, in der er bis zum Vize-Generalsekretär aufstieg. Während der 50er und 60er Jahre wurde er durch eine beachtliche Reihe von Erfolgen zu einer internationalen Berühmtheit, darunter seine Rolle als Friedensstifter im Nahen Osten, Katalysator für die Dekolonialisierung in Afrika und Anwalt für Bürgerrechte in den USA.


Ralph Bunche, Under-Secretary General, United Nations
Program subject to change, Fountainhead® Tanz Théâtre / Cultural Zephyr e.V., Berlin, April 28, 2019