Please download the FESTIVAL PROGRAM (pdf)
Friday, May 8 (Hörsaal/Auditorium 1072)
12 pm / 12 Uhr
GOLDIL / GLADIOLUS
Director: Arash Zaare
Narrative, Color, 40 min.
Iran 2011
Persian with English subtitles
A homeless teenager collects recyclable garbage in an unsafe city. For a long time, he feels he is not particularly viewed as different from the garbage he collects. One day he will reach the road to happiness, unaware of what fatal events await him...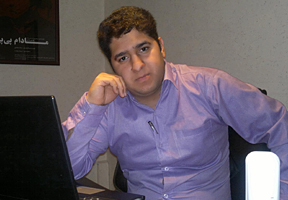 Director: Arash Zaare
Ein obdachloser Teenager sammelt wiederverwertbaren Müll in einer unsicheren Stadt. Für eine lange Zeit fühlt er, dass er nicht sonderlich anders als der Müll angesehen wird, den er sammelt. Eines Tages wird er auf den Glücksweg gelangen, unwissend, welche fatalen Ereignisse ihn erwarten...