return to program schedule

please download the
festival program >here<


Friday . May 9
Kinosaal/Cinema
6 pm / 18 Uhr
BLACK AND CUBA
Director: Robin J. Hayes
Documentary, Color, 82 min.
USA/Cuba 2013
English and Spanish with English subtitles
"Black and Cuba" follows street-smart Ivy League students who are outcast at their elite university, band together and travel for adventure to Cuba to see if revolution is truly possible. With cutting-edge style and humor, this inspiring documentary illuminates how racial equality is an international human rights issue. The film also reveals a fresh perspective on the US-Cuba conflict.
Due in part to the US government's ban on travel and trade with socialist Cuba since 1962, many Americans are unaware that the island's population is 60% Black. Human rights activists assert this embargo violates the human rights of Cubans and Americans.
Intent on sharing their experiences, the students film their journey. Through the streets of Havana and Santiago, they observe the literal signs of revolution - "Venceremos! We will overcome!" - as well as moving hip-hop performances. A stirring block party at a racially integrated housing project impacts the travelers in surprising ways.
Candid, spontaneous encounters with African Cubans highlight similarities between African American, Latino and Cuban experiences. Although Cuba declared racism illegal after 1959, the travelers' new friends describe recent experiences of racial profiling, police misconduct and employment discrimination.
The students also observe the positive benefits of Cuba's social safety net. African Cubans enjoy access to public education, health care and homeownership in a manner that remains out of reach for many of the students' neighbors and family members in the U.S. Despite witnessing the realities behind the myths of color-blindness and social mobility, the students return home empowered with renewed hope.
"Black and Cuba" folgt cleveren Ivy-League-Studenten, die an ihrer Elite-Universität Außenseiter sind, sich zusammenschließen und auf Abenteuerreise nach Kuba gehen, um zu sehen, ob Revolution wirklich möglich ist. Mit innovativem Stil und Humor beleuchtet dieser inspirierende Dokumentarfilm, dass Gleichberechtigung für alle Ethnien eine internationale Menschenrechtsfrage ist. Der Film zeigt auch eine neue Perspektive auf den US-Kuba-Konflikt.
Teilweise auch durch das von der US-Regierung seit 1962 erlassene Reise- und Handelsverbot mit dem sozialistischen Kuba ist vielen Amerikanern nicht bewusst, dass der Anteil der schwarzen Bevölkerung der Insel 60% beträgt. Menschenrechtsaktivisten behaupten, dieses Embargo verstößt gegen die Menschenrechte der Kubaner und Amerikaner.
Mit der Absicht, ihre Erfahrungen zu teilen, filmen die Studenten ihre Reise. In den Straßen von Havanna und Santiago beobachten sie sowohl die buchstäblichen Zeichen der Revolution - "Venceremos! Wir werden siegen!" - als auch mitreißende Hip-Hop-Darbietungen. Eine aufregende Nachbarschaftsparty in einer ethnisch-integrativen Sozialbausiedlung wirkt auf die Reisenden in überraschender Weise.
Ehrliche, spontane Begegnungen mit Afrikanisch-Kubanern kennzeichnen Ähnlichkeiten zwischen afrikanisch-amerikanischen, lateinamerikanischen und kubanischen Erfahrungen. Obwohl Kuba nach 1959 Rassismus als illegal erklärt hatte, beschreiben die neuen Freunde der Reisenden jüngste Erfahrungen von Racial Profiling, Amtsmissbrauch der Polizei und Diskriminierung am Arbeitsplatz.
Die Studenten sehen auch die positiven Aspekte des kubanischen sozialen Netzes. Afrikanisch-Kubaner genießen freien Zugang zum öffentlichen Bildungssystem, Gesundheitsversorgung und Wohnungseigentum in einer Weise, die außerhalb der Reichweite für viele Nachbarn und Familienmitglieder der Studenten in den USA bleibt. Trotz der Realitäten, die sie hinter den Mythen der Farbenblindheit und sozialen Mobilität sehen, kehren die Studenten mit neuer Hoffnung gestärkt nach Hause zurück.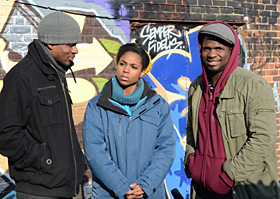 Director: Robin J. Hayes
MOTTOES
"I may not make it if I try, but I damn sure won´t if I don´t..."
Oscar Brown Jr.
"Mankind will either find a way or make one."
C.P. Snow
"Whatever you do..., be cool!"
Joseph Louis Turner
"Yes, I can...!"
Sammy Davis Jr.
"Yes, We can...!"
Barack Obama