THE STARTLING TRUTH
Director: Ese Ovueraye
Documentary, Color, 71 min.
USA 2011
English
The film "The Startling Truth" explores the modern dialogue between women and men having unprotected sex and producing children, but not marrying or co-parenting. Robin King, a single mother living in Harlem, New York purposely stopped taking the birth control pill to become pregnant by the man she loved. She never told the father of their daughter she stopped taking the pill and never told him she wanted to have a baby. For years she lied to the father about what she did to become pregnant. Robin's selfishness has put up a wall of distrust between herself and the father, but the father never stopped paying child support or stopped seeing his daughter. Robin's decision to have a child out of wedlock has affected her life but most importantly, has affected her daughter's life greatly. Although Robin is an educated, strong and loving mother...being a single mother can be VERY hard. The day to day responsibility of being a working single mother can be VERY overwhelming. Robin has changed her ways for the better, but why are more and more women and men getting into this same situation and having children out of wedlock?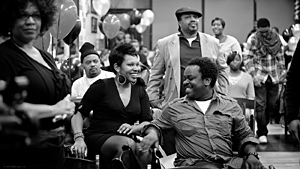 Der Film "The Startling Truth" untersucht den modernen Dialog zwischen Frauen und Männern, die ungeschützten Geschlechtsverkehr praktizieren und Kinder zeugen, aber nicht heiraten oder die Kinder gemeinsam großziehen. Robin King, eine alleinerziehende Mutter aus Harlem, New York, beendete absichtlich die Einnahme der Antibabypille, um von dem Mann schwanger zu werden, den sie liebte. Sie erzählte dem Vater ihrer gemeinsamen Tochter nicht davon, dass sie die Pille nicht mehr nahm, und auch nicht, dass sie ein Baby wollte. Jahrelang belog sie den Vater darüber, was sie tat, um schwanger zu werden. Robins Selbstsucht hat eine Mauer aus Misstrauen zwischen ihr und dem Vater errichtet, aber dieser hat die Unterhaltszahlungen nie eingestellt oder seine Tochter nicht gesehen. Robins Entscheidung, ein uneheliches Kind zu haben, hat ihr Leben beeinflusst, aber vor allem hatte sie große Auswirkungen auf das Leben ihrer Tochter. Obwohl Robin eine gebildete, starke und liebevolle Mutter ist... eine alleinerziehende Mutter zu sein, kann SEHR schwer sein. Die alltägliche Verantwortung als arbeitende alleinerziehende Mutter kann SEHR überwältigend sein. Robin hat ihren Weg zum Besseren geändert, aber warum kommen immer mehr Frauen und Männer in die gleiche Situation und haben uneheliche Kinder?