PERFORAR EL INSTANTE / PIERCING THE MOMENT
Director: Elisabet Prandi
Documentary/Experimental, Color, 19 min.
Spain 2009
Spanish and Catalan with English subtitles
With Bach's Goldberg Variations as a backdrop, a group of people work together to create the perfect picture. "Piercing the Moment" is a piece that combines classic elements of the "making of" genre with experimental cinema to investigate the fragmentation of movement in both place and time.
Vor dem Hintergrund der Goldberg-Variationen von Bach arbeitet eine Gruppe von Menschen gemeinsam an der Schaffung des vollkommenen Bildes. "Piercing the Moment" ist ein Stück, das klassische Elemente wie das des "Making-of"-Genres mit experimentellem Kino verbindet, um die Zersplitterung der Bewegung sowohl örtlich als auch zeitlich zu erforschen.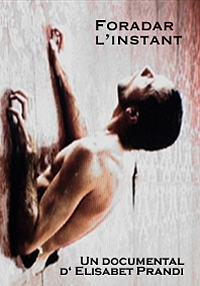 Elisabet Prandi / Director